Best Dual Monitor Arms (Review) in 2022 For many of us spending the day in front of the computer, having a dual monitor setup is crucial. Usually, one of the monitors end up being your main screen and other one is used for secondary application, such as chat apps or music player.
Unfortunately in such a setup, most of the desk ends up being occupied by the monitors It's original stands, which sits on the desk itself and causes a lot of desk space to be unusable.
Dual monitor stands solve this problem. First of all, they are not standing on the desk, but they are attached to the desk via c-clamp mount. This already make a lot of desk space usable again.
In addition to increasing the functionality of your desk, Monitor arms enables you to move the monitor freely above the desk. It basically makes the "monitor" float over the desk and let's you move in any position you need.
As dual monitor arms being the most popular kind of monitor arms, there are many varieties and options. In this review, We will show some of our favorites
Best Fixed Arm Monitor Mount
WALI Dual Adjustable Desk mount is one of the classics of this product category. With its simplistic design, It offers you most of the benefits that a monitor arm can.This mount is well madea nd installation is quick. It is 32 inches wide and can hold up to two 22 lbs monitors.
It is a very sturdy metal mount and has an adjustable strength for roatiting. All the cables are also routed to the base of the mount to keep the area clean out of cables and wires.
more info
Our Highlights
✓

10-Year Warranty
✓

2 VESA Size Support
✓

C-Clamp & Grommet base
Popular Choice
Great Value
Best Dual Monitor Arm
EleTab Dual Monitor Desk Mount offers probably more than most of us need. With an extended pole and split arms, this arm can support up to 32 inch or even UltraWide monitors. The center pole is about 14.3 inches tall and the arm max extension can go as far as 21.5 for each arm.
It is easy to assemble and it has a great range of motion. Each arm includes cable clips to keep the surrounding area free of wires and cables.
more info
Our Highlights
✓

Invisible Cable Management
✓

Detachable VESA Plate
✓

Longer Arm Extension
✓

Tall Pole
Best Free-Standing Monitor Arm
VIVO Dual Monitor Free-Standing Desk stand is one of the easiest yet monitor arms to install. It is very similar to most factory made monitor stands, however It is capable of handling 2 monitors.
If you aren't able to attach a C-clamp or grommet style mounting bases, then this can easily bring the monitor arm world to you without making any other changes to your setup
more info
Our Highlights
✓

Detachable VESA plates
✓

Heavy-duty base
✓

Integrated Cable Management
Popular Choice
Great Value
AmazonBasics Premium Dual Monitor Stand is the best dual product on market. It comes with two color options, black and silver. It's one of the easiest monitors to install and can be attached in two different ways, C-clamp and grommet. Each arm is capable of handling a 20 pound monitor.
It has a Amazonbasics logo on the base which not many have. AmazonBasic Dual stand works with any monitors that are 27 inches or smaller.
more info
Our Highlights
✓

AmazonBasics 1-Year Warranty
✓

Easy Installation
✓

Long Arm Extension
Popular Choice
Premium Quality
VIVO Full Motion Dual Monitor Free-Standing Desk Stand can fit up to two 17.6 lbs screens. This stand is one of the popular choices because of its sturdiness. The base is heavy and wide enough to hold two wide monitors.
The center pole is about 18 inch tall, making the monitors high enough for comfortability. Each screen can be placed either portrait or landscape.
more info
Our Highlights
✓

3-Year Manufacturer Warranty
✓

V-Shaped Wide Stand Base
✓

Quick Release VESA Plates
Popular Choice
Great Value
AVLT-Power Dual Monitor Mount has a noticeable design compared to most other products on the market. This monitor mount can be setup in 2 different configurations: Dual or Single Monitor. It is a very simple unique design that comes with a sit-stand working station to make the workstation much more comfortable.
Monitors' height can be easily adjusted from 9.5 to 18.5 inches tall.This also has a detachable VESA which makes it very easy for the monitor to attach into the monitor mount.
more info
Our Highlights
✓

Elegant & Unique Design
✓

Single or Dual Monitor Setup
✓

5-Year Limited Warranty
VIVO Black Articulating DUAL Arm offers more given that its very budget friendly price. It's a great option for anyone as long as monitors are within its weight capacity. Each arm extension goes as far as 18.5 inches and can support flat and curved monitors.
This Dual monitor arm is fully adjustable and can be used while sitting or standing up.Its solid steel construction also has a sturdy C-clamp and grommet.
more info
Our Highlights
✓

3-Year Manufacturer Warranty
✓

Supports 2 VESA Sizes
✓

Adjustable Arms
Highest Quality Vertical Dual Monitor Arm
There might be many reasons to pick Ergotron LX Dual Monitor Arm for, because in most factors It offers the best option. Extended Pole, vertical positioning, heavy-duty base and arms, there isn't much this monitor arm can't do.
more info
Our Highlights
✓

10-Year Warranty
✓

Tall Vertical Pole
✓

Aluminum & White Color Options
View all Monitor Arms:
Do you need arms to be adjustable height?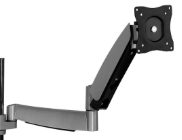 Adjustable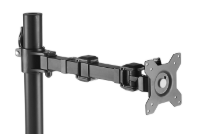 Fixed