Best Monitor Arms with Laptop Stand (Review) in 2022 When we talk about productivity, the biggest factor is the screen real estate. Usually, the more screen space you have using multiple monitors, more things you can interact with without switching screens or windows.
In this article, we will talk about three different types products and review some of the best monitor arms with laptop stands, and laptop arms on the market.
As I mentioned earlier, one of the ways you can increase your productivity is by adding additional monitors to your setup. However computer monitors aren't cheap at all.
Unfortunately monitor prices never seem to go down, as manufacturers constantly come up with new features.
However you could get around that, especially If you currently work from home now during this period. That means you might already have a laptop that you used to carry to work, which you also use to work from home.
Surprise surprise! That laptop has a monitor built-in. Depending on what you do on your computer, you could accommodate at least one or two windows on that screen.
In many cases we only pay attention to one application at a time anyways, so the size of your secondary monitor isn't really an issue here.
Whether that is slack or email client for work. Discord chat or twitch stream while playing your favorite game is up to you.
Yes using your laptop as your secondary monitor as you use your monitor as you primary screen sounds like a no-brainer, until you actually try it on your setup. Turns out that there are actually couple of problems in real world using your laptop as a monitor.
First thing you will realize is that, your laptop has different form factor compared to your monitor. Meaning that It has a built-in keyboard. So you can't simply mount that monitor like you do with your monitor.
This doesn't sound like a problem, but if you were using your laptop with a monitor already. That means you already had a separate keyboard on your desk to use with your monitor.
Now that you want to keep your laptop wide open on your desk, It will also practically bring a second keyboard to your desk.
While productivity is based on screen real estate, your workspace is also very important factor, as you want to keep it organized and as efficient as possible.
You will notice that, this setup will instantly feel more cluttered compared to just closing your laptop and hiding it on a desk spot where it's not very crowded.
Luckily there are various different products on the market that let's you use your laptop as your secondary monitor on your setup.
There are some monitor arms on the market that actually come with laptop stand built-in. It is similar to a dual monitor arm, however the second arm holds the laptop
Some of these are sold as dual monitor arms, but they come with a vesa laptop tray, which you can attach to the second arm then you put the laptop on top of that tray.
These are pretty effective, since If you ever decide to get a second monitor, you can still use the same product to mount the other one.
Another solution is using a VESA laptop tray. Similar to mounts that come with laptop trays, If you already have a monitor mount, you can simply use this product to convert your current arm to become a laptop tray.
These are usually a single piece products that hold your laptop with it's tray, and mount to the monitor arm with the vesa laptop mount.
Finally, the last solution is combination of both of these. There are laptop arms that just hold your monitor. If you already have a monitor arm, you can use a laptop arm to mount your laptop.
Our Highlights
✓

Includes Laptop Tray
✓

Detachable VESA Plates
✓

Two Mounting Options
✓

Long Arm Reach
Our Highlights
✓

2-in-1 Monitor/Laptop Arm
✓

Includes VESA Laptop Tray
✓

Grommet and C-Clamp Mounting
✓

Integrated Cable Management
Our Highlights
✓

Unique Elegant Design
✓

Silver and Black Colors
✓

High Quality Construction
✓

VESA Laptop Mount
Our Highlights
✓

Fully Adjustable Height
✓

Laptop/Keyboard Tray
✓

Attached Cable Clips
✓

10-Year Protection
View all Monitor Arms:
Do you need arms to be adjustable height?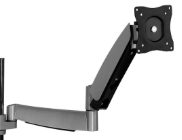 Adjustable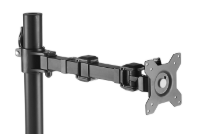 Fixed