Best Dual Ultrawide Monitor Mounts (Review) in 2022 If you are looking for a monitor mount for dual ultrawide monitors, especially 34-Inch monitors, there are two things you need to consider.
In this article, we will take a look at the main things you need to consider when buying a dual ultrawide monitor arm for your setup, and we will review some of the best dual ultrawide monitor mounts and stands.
Earlier, we have reviewed and tested single monitor arm for 49-inch Super Ultrawide monitors, so make sure to check that out If you are looking for a super ultrawide monitor arm.
The thing that needs to be considered is the monitor's weight. Ultrawide monitors are usually a lot heavier compared to widely used 27 Inch monitors on the market.
Unfortunately many monitor mounts on the market do not fully support that weight, unless they are marked as heavy duty.
Based on our research and experience, you should make sure that mount supports at least 20 lbs (9kgs) so that It can support the 34 Inch monitor and provide sturdy weight adjustment.
The second important factor to consider when you are looking for an ultrawide monitor mount is the mount's arm length.
Most dual mounts barely stretch enough to keep two 27-Inch monitors side by side. Because of that, people used to use triple monitor mounts to mount their dual screens. However recently there are some mount that have been release just to solve this problem
Best 34-Inch Dual Monitor Mounts
We have curated a list of heavy duty monitor arms that we think you should consider if you need a monitor arm that can support your UltraWide or 34+ inch monitor, while still providing flexibility for positioning of the monitor.
VIVO Wide Dual Monitor Mount brings It's classical and proven design to the world of ultrawide monitors with It's long adjustable arms
Additionally, VIVO Dual Monitor Arm comes with grommet mount option and manufacturer warranty
more info
Our Highlights
✓

Supports Monitors Up To 20Lbs
✓

Long Arm Range
✓

Open Top Slot VESA Plates
✓

Heavy Duty Desk Clamp
✓

3-Year Manufacturer Warranty
Monoprice Dual Adjustable Monitor arm is one of the rare monitor mounts that can support ultrawide monitors with It's extended arm range
more info
Our Highlights
✓

Holds Up to 20 lbs
✓

Extended Arm Reach
✓

High-Strength Steel Construction
✓

Cable Management
Mount-It! Dual Ultrawide Monitor Arm Mount is uniquely designed for Ultrawide monitors up to 38-Inches with It's adjustable range
VESA Mount provides quick release functionality and It comes with 5-year manufacturer warranty.
more info
Our Highlights
✓

Fits Monitors Up To 38-Inch
✓

Extended Arm Length
✓

Comes With C-Clamp & Grommet
✓

Mounts To Thick Desks
✓

5-Year Warranty
VIVO Stacked Dual Monitor Stand is capable of handling heavy monitors such as ultrawides in a vertical stacked setup.
It can mount thick desks up to 3.5 inches and the middle pole is 34.5 inches long
more info
Our Highlights
✓

Supports Up To 22lbs
✓

Vertical Positioning
✓

3-Year Manufacturer Warranty
✓

Integrated Cable Management
View all Monitor Arms:
Do you need arms to be adjustable height?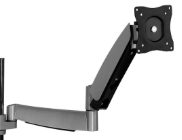 Adjustable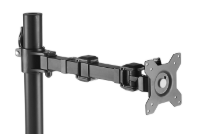 Fixed