19 Battlestations with Ergotech Freedom Arm (Review) in 2022 If you are anything like me you will need to see real life setup pictures before adding anything to your pc setup. That is why in this post, we have not only reviewed the ergotech freedom monitor arm, but I found all the computer setups that are using this monitor mount to give you idea about how It would look.
Ergotech is one of the oldest monitor mounts on the market. It has a unique mount design and It comes with black (they call it metal gray, as It is polished black) and silver colors.
Freedom arm is one of the original monitor arms and unlike most monitor mounts, It is heavy duty by default and can hold up to monitors 33 lbs.
Due to It's high weight capacity, nowadays It's a create choice for Ultra wide or super ultra wide 49 inch monitors.
Best Fixed Arm Monitor Mount
Ergotech Freedom Heavy Duty Single Monitor Arm is a well known monitor arm, as this specific monitor arm was one of the earliest products on the market influencing many other monitor arms.
This monitor arm is heavy duty as It can carry monitors up to 30.8 lbs, enabling you to mount most UltraWide monitors as well.
more info
Our Highlights
✓

Trusted Brand
✓

Holds Monitors Up To 30.8 lbs
✓

3-Year Warranty
Due to increase in setups using multiple monitors, Ergotech added a new version to It's freedom arm series.
Now you can use freedom arm to mount two monitors side by side. This version still includes one middle pole, however each arm is actually connected to seperate poles. That increases the extension of each arm.
I usually prefer multi monitor setup, especially If I can mount the second monitor vertically. Depending on your workstation use case this could be very handy.
For example, If you are coding, vertical monitor can help you see all of the code that you are working on. Or you could use the second monitor to browse the internet or chat with friends while playing a full screen game on the main monitor.
Ergotech Freedom Arm for Apple iMac and LED Display
Unfortunately unlike most monitors in the market; iMac and Apple LED displays do not support vesa mount.
VESA mount is a standard mounting used in all monitor mounts. It comes with 4 screws in square shape.
You can easily check if you monitor supports VESA mounts by checking the back of It. If you see 4 holes, each of them being same distance from each other, then your monitor most probably supports VESA mounts.
There is a version of Ergotech Freedom Arm for Apple displays. There are two things different compared to other monitor mounts.
Since Apple iMac and 27 inch apple display come with aluminum chassis, they are a lot more heavier compared to other monitors. Ergotech Freedom arm can support that heavy weight.
The main difference however is how the display mounts to the monitor arm. Ergotech includes It's custom mount for Apple display.
You will need to disassemble the apple stand that the monitor comes with and attach the Ergotech mount. Once you do that your monitor can be attach to the arm like other monitors.
Below I have included some real pictures using Ergotech freedom arm for Apple iMac and LED display.
Ergotech is a well-known trusted brand. They have been around since monitor mounts were around, as them being one of the major manufacturers initially
Actually Ergotech is the first ever monitor arm I have purchased, which was in 2015. They had the only monitor mount for Apple LED displays.
They might not be the most affordable solution. However if you are buying ergotech you are optimizing for different aspects, such as sturdiness and high built quality
If you need a heavy duty and sturdy monitor mount, I highly recommend their products. However If you still have questions about which monitor mount to buy, use our monitor arm finder on the homepage. It let's you filter all the products per your criteria.
View all Monitor Arms:
Do you need arms to be adjustable height?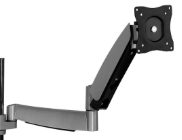 Adjustable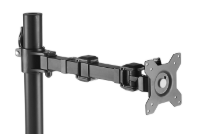 Fixed